Asset Management Solutions
Failing to plan is planning to fail.
You could focus on keeping your equipment running at the lowest cost possible and not worry about the longer-term cost implications of current decisions.
Or, you could take a proactive approach and make a plan. Focus on having equipment ready when needed, but also making sure you evaluate the lifespan of the equipment and have a strategic replacement process in place.
Asset management and reliability focus on the optimization of assets that minimize the whole-life cost, including the operation, maintenance and replacement or disposal of each asset in the system.
What We Do:
Help you identify where you are on your asset management journey
Establish the required foundational elements that support success
Ensure your CMMS is a dynamic tool that drives improvement activities
Key Elements:
Changing IT systems from silos to integrated systems
Having the right processes in place
Implementing a trained, competent workforce to execute and follow up on actionable data
Find solutions and drive improvement with the right approach.
Our goal is to provide a Reliability Centered Culture where your organization can continue to drive improvement.
Sometimes equipment downtime may only be a few minutes, but if it occurs consistently, it can have a bigger impact on availability than a major breakdown. As you progress on your asset optimization journey, it's important to relate actionable KPIs to floor activities in a way that allows understanding and ownership for supervisors and associates. When equipment fails to run when scheduled or fails, the maintenance department needs to understand how that impacts availability and OEE. When you couple metrics with enough granularity and reliability to highlight issues with floor coaching and support, you enable the maintenance team to address production issues in a positive, productive manner.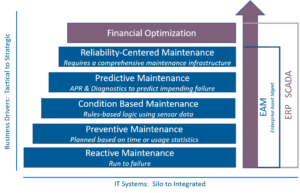 Tools
The Reliability Assessment Grid
Addresses immediate and long-term needs
Highlights organization capabilities (a workforce with technical skills that works in alignment with organization goals and objectives is critical.)
Keeps focus on: increased system utilization, standardization of processes, and consistent use and reporting
Measurements
Collecting the right data is the first step. Value is created when you make it accessible to people so they can and do take action. We'll ensure you're collecting the right data and presenting it to the right people.
Why You Need This
An improved equipment reliability program will lend itself to gains in OEE and yield. Aligning the people, processes and technology support by actionable KPIs drives disciplined action.