For your Continuous Improvement Initiative or Digitization Project, you can expect a methodical approach that:
• Clarifies Goals & selects solutions that balance best fit technology with your organizational readiness & budget
• Engages to map relevant processes & set clear expectations for aligning people and process with any new technology.
• Coaches your team through the Adoption Process to ensure initial and then on-going results.
A Project Methodology That Quickly Guarantees Success
Our general approach to projects is more holistic than many. We have experts in operational efficiency, quality, process visualization and supervisory control optimization, regulatory compliance, energy management, workforce optimization, and asset management. Those experts will help you plan for more than just your technology deployment, regardless of the sophistication or experience of your team. We'll help you stay focused on the outcome and get the impact you're looking for. We'll facilitate a process to weigh your scope options to see whether a point solution, a framework solution or a sustainable program is best for you. And even though our approach is holistic, we know time is money and will move quickly to visible results.
People, Process, Technology, Disciplined Execution (PPTDE)
At InSource, we know that technology alone is not enough. We offer solutions that align people, process, and technology. We help our clients maintain their success through disciplined execution. We help our clients say:
Our people can and will produce expected results.
We have the framework and procedures needed to produce expected results.
We have the tools and the data to help us produce expected results.
We know what we need to do and we do it consistently over time producing expected results.
Organizational Readiness
The InSource Maturity Matrix facilitates a unified approach by recognizing a number of foundational influencers. First, it is a framework that helps clients pinpoint their current state and future direction. Second, it helps InSource understand where clients are in their journey and how quickly they are moving. Lastly, it functions as a tool to insure we are achieving success as the client defines it.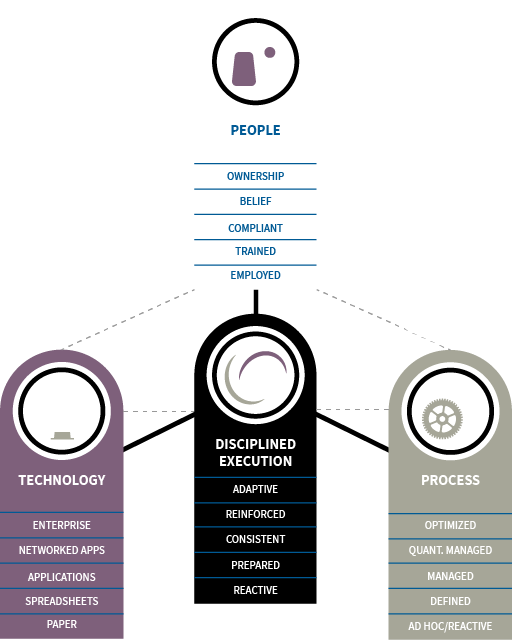 InSource Maturity Matrix