Quality Solutions
The big picture makes a difference.
Why are you doing it? How does it relate?
At InSource Solutions, we can help your manufacturing company connect the dots so the people involved know why they are performing a specific test and how it relates to overall customer satisfaction.
We'll see if you are:
Collecting the right data and presenting it to the right people

Using the right tools and processes to sustain and build upon improvements
We all know that successful manufacturing begins long before inspection. As Harold F. Dodge, one of the principal architects of the science of statistical quality control points out, "You cannot inspect quality into a product."
At InSource, we'll help you:
Create the right engagement

Ensure your toolbox is equipped with the right tools for analyzing and improving quality of products and services

Ensure you are reviewing the right key performance indicators (KPI) on a routine basis
Furthermore, we'll relate those KPIs to the day-to-day actions of your personnel to reinforce their crucial role in sustaining and increasing quality.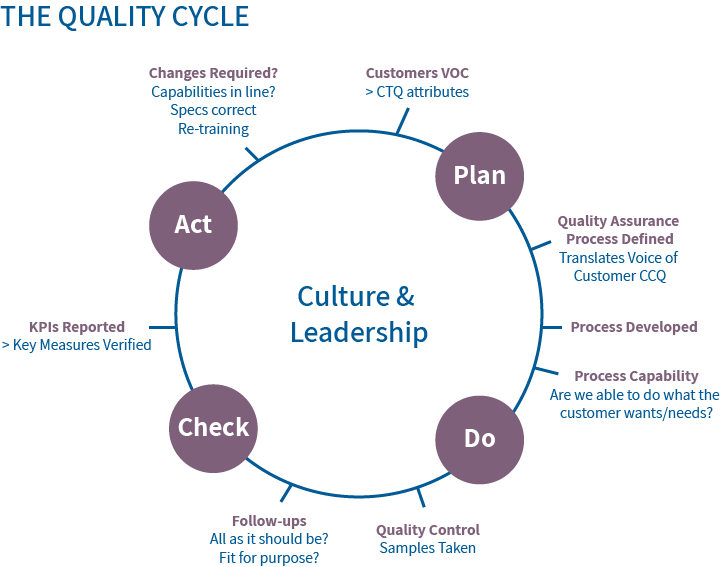 Let's take a look at the core elements:
Quality Management Systems. Every organization needs a framework and set of standards for managing processes. ISO provides international standards for deploying quality processes.
Product Quality. Sampling plans and samples, testing plans and tests and the associated recording and reporting systems are some of the core requirements to manage product quality. How these are executed and managed through the various resources determines how effectively you can confirm that you produced what was expected.
Process Quality. The more you know about your processes, the better you can enhance them. Knowing and managing the set points of the processes and managing them in as close to real time as possible will help minimize potential exposure.
Planning for Quality. This will include Design for Six Sigma (DFSS), Failure Mode & Effects Analysis (FMEA), Design of Experiments (DOE) and Measurement Systems Analysis (MSA). When you plan for quality, you reduce the amount of first pass quality losses, which leads to a reduction in waste and customer complaints. In execution, we'll incorporate Statistical Process Control.
Identifying Defects and Defectives. Even with the best planning, defects and defectives can occur. As you immediately take action to address these issues, having the operators classify the type of issues they are encountering goes a long way toward solving problems. Assignable Cause/Corrective action is an effective way to keep operators involved in the details of what affects quality.
Improvements. There are many tools for analyzing and improving product quality when products don't meet the Voice of the Customer (VOC). We may use in-depth tools such as ANOVA or tools such as Fishbone Diagrams, Scatter Plots, Control Charts and more.
The bottom line?  Amazing results can take place when companies integrate process and product quality management tools into how people actually work and align expectations to what the customer wants/needs.
Featured Solutions:
Energy Management Solutions
Fact: Those LED lights aren't going to shine enough light on your energy savings.
If manufacturers are going to survive and thrive in the future, they need to take into account the negative impact of rising energy and water costs on profitability and production. Then they need to assure that energy management and sustainability are ingrained in their organizational culture.
One-time passive energy efficiency projects such as upgrading to LED lighting or replacing older motors with more efficient models will generate 10-15% in savings, but it's not enough.
InSource aims to enhance performance by reducing demand and optimizing resources:
We will work with you to identify the right projects
Transform how your organization views and manages energy resources
Channel your efforts on active energy efficiency
Be involved in physical and virtual data collection
Integrate software application outputs into your employees' routines
Knowing your consumption is important, but more valuable is measuring against a goal that is aligned with your business objectives. We not only encourage you to measure top-level KPIs such as Greenhouse Gas Footprint and Energy intensity, we help relate those measurements to the day-to-day actions of your personnel.
Tools we use to help collect data and transform it into an actionable structure include:
Schneider-Electric metering
Wonderware System Platform
Power Monitoring Expert (PME)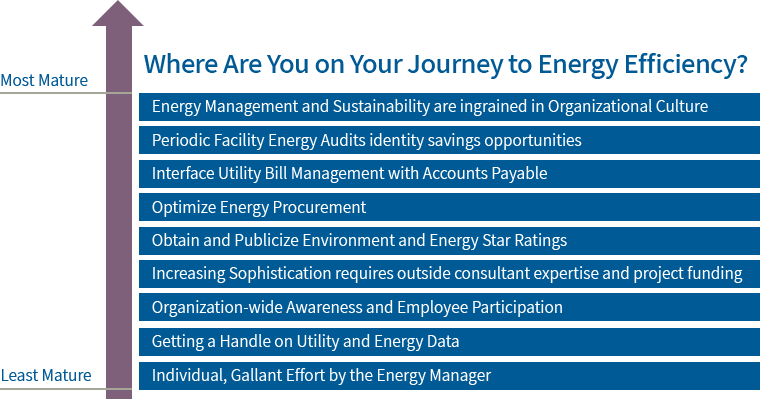 Compliance Solutions
Be proactive, not reactive.
Compliance should not be a documentation activity, but rather a way of life for your organization.
You want to instill confidence in your organization's ability to deliver a consistent, quality product. The ISO 2015 revision follows a risk-based standards format, which will enhance customer confidence and product consistency while also showcasing areas of opportunity for your organization.
How InSource Can Help
InSource can provide the implementation to support the seven quality management principles:
QMP 1 – Customer focus
QMP 2 – Leadership
QMP 3 – Engagement of people
QMP 4 – Process approach
QMP 5 – Improvement
QMP 6 – Evidence-based decision making
QMP 7 – Relationship management
As you work for Total Quality Management in your organization, it's important that everyone is on board and is trained to effectively develop, implement and deploy the elements of compliance aligned to the System for Management and the organization's Quality Management System.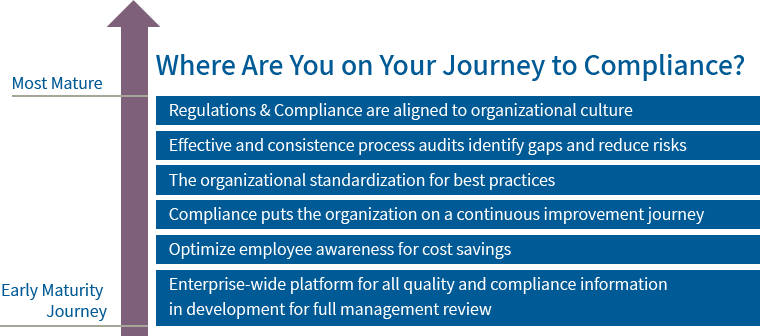 Qualifying Questions:
Do you have ongoing certification requirements or issues?
Have you made plans for your ISO certification gaps and issues?
Do you have a risk mitigation and terrorism prevention plan? How do you communicate, provide organizational feedback and take action?
For the Food Industry Domain:
How often does your food Safety, Food Defense team meet and review your plans?
Are you using any type of code scanners for product traceability?
How often do you conduct Food Safety, Food Defense reviews?
Featured Solutions:
Visualization & Supervisory Control
Got Data. Now What?
Data gathering is essential to your operation. But it's important to note two things.
Taken individually, a data source brings value. But synthesize data from across the plant, and it can reveal relationships that otherwise might remain invisible.
Data gathering is not enough.
Statistician and quality guru W. Edwards Deming said, "It is wrong to suppose that if you can't measure it, you can't manage it – a costly myth." What he meant was that while data gathering is valuable to improving management, there are many things that cannot be measured that managers must still make decisions about in order to optimize a process.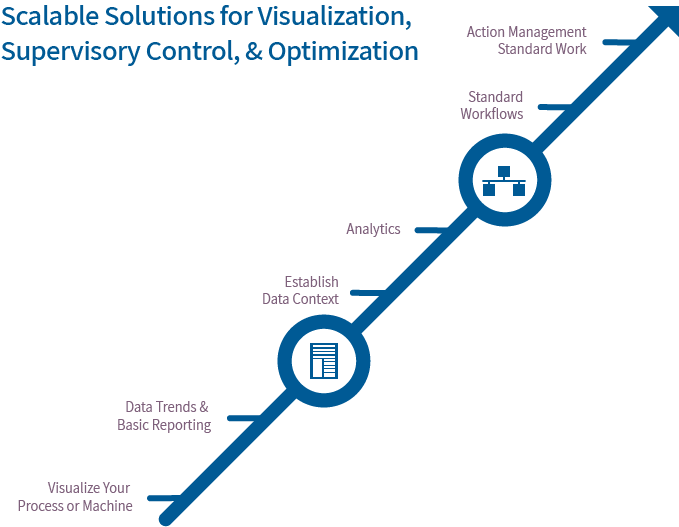 Our solutions integrate data into programs to help managers make better decisions. This translates into quantifiable net increases in operator and leader effectiveness and plant productivity.
Our solutions are designed to help:
Empower operators to visualize, optimize and act. Our unique approach creates situational awareness and contextualized information that operators need to quickly and accurately address abnormal situations before they impact operations.
Give engineers immediate on-premise or cloud access to identify trends within historic data, assess alarm system performance and discover the root causes of any abnormal situations in the plant
Give all personnel a complete overview and ability to monitor the health of the plant.
Create simplified views of recipes, product formulations and set-up specifications on automated production equipment and machines, allowing consistent production governance and electronic history.
Featured Solutions
Operational Efficiency Solutions
The Right Goals. The Right Results.
There's a quote that says, "As you climb the ladder of success, make sure it's leaning against the right building." The same can be applied to the manufacturing industry: "As you invest energy in improving efficiency, make sure you're pursuing the right correctives based on the right data and the right metrics."
At InSource Solutions, we will help you:
Define your goals
Develop the appropriate data gathering methodologies
What we'll measure/evaluate:
Overall Equipment Effectiveness (OEE) – Whether you're looking at a piece of production equipment or the entire production line, this multi-dimensional metric evaluates Availability X Performance X Quality.
Throughput – Measure how much product is being produced on a machine, line, unit or plant over a specified period of time.
Capacity Utilization – Describes how much of the total manufacturing output capacity is being utilized at a given point in time
Schedule or Production Attainment – For a given specified schedule, this measures what percentage of time a target level of production is attained.
We'll help train you to:
Monitor, analyze and continuously improve operating efficiencies
Define, identify and solve problems
Develop a sampling strategy and collect data
Know when and how to use analytic tools
Develop strategies to improve processes

Featured Solutions
Asset Management Solutions
Failing to plan is planning to fail.
You could focus on keeping your equipment running at the lowest cost possible and not worry about the longer-term cost implications of current decisions.
Or, you could take a proactive approach and make a plan. Focus on having equipment ready when needed, but also making sure you evaluate the lifespan of the equipment and have a strategic replacement process in place.
Asset management and reliability focus on the optimization of assets that minimize the whole-life cost, including the operation, maintenance and replacement or disposal of each asset in the system.
What We Do:
Help you identify where you are on your asset management journey
Establish the required foundational elements that support success
Ensure your CMMS is a dynamic tool that drives improvement activities
Key Elements:
Changing IT systems from silos to integrated systems
Having the right processes in place
Implementing a trained, competent workforce to execute and follow up on actionable data
Find solutions and drive improvement with the right approach.
Our goal is to provide a Reliability Centered Culture where your organization can continue to drive improvement.
Sometimes equipment downtime may only be a few minutes, but if it occurs consistently, it can have a bigger impact on availability than a major breakdown. As you progress on your asset optimization journey, it's important to relate actionable KPIs to floor activities in a way that allows understanding and ownership for supervisors and associates. When equipment fails to run when scheduled or fails, the maintenance department needs to understand how that impacts availability and OEE. When you couple metrics with enough granularity and reliability to highlight issues with floor coaching and support, you enable the maintenance team to address production issues in a positive, productive manner.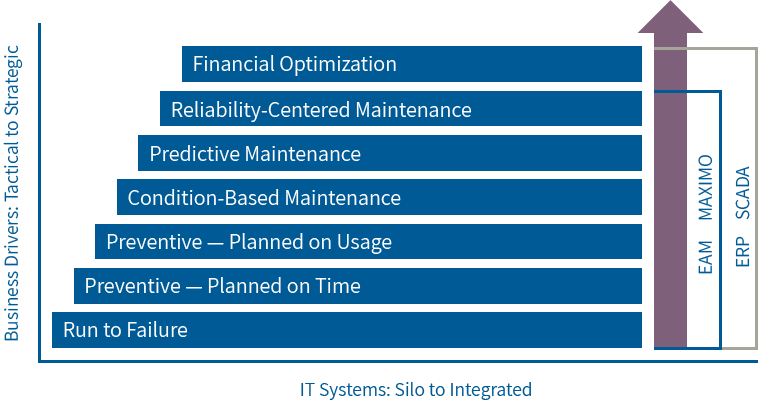 Tools
The Reliability Assessment Grid
Addresses immediate and long-term needs
Highlights organization capabilities (a workforce with technical skills that works in alignment with organization goals and objectives is critical.)
Keeps focus on: increased system utilization, standardization of processes, and consistent use and reporting
Measurements
Collecting the right data is the first step. Value is created when you make it accessible to people so they can and do take action. We'll ensure you're collecting the right data and presenting it to the right people.
Why You Need This
An improved equipment reliability program will lend itself to gains in OEE and yield. Aligning the people, processes and technology support by actionable KPIs drives disciplined action.
Workforce Optimization Solutions
The workforce has changed and will continue to evolve.
Repetitive task work is out. Technical skills, communication skills and problem-solving skills are in.
In the past, the average manufacture worker focused on simply "doing" (and not thinking about) a specific task. It was fairly easy to find and replace workers. Managers could increase or reduce the labor force as needed.
Today's modern environment has created new knowledge and skill requirements within the workplace. The workforce optimization process is an integral part of the supply chain that drives a manufacturing company's business strategies, defines their culture and improves their bottom line. Advances in computers and robotics have decreased the need for human labor, while the need for employees with high technical skills, communication skills and problem solving skills has increased.
Companies are under pressure for more rapid product introductions, adaptation to changing market conditions and continuous improvement to optimize costs, quality and efficiency.
Here's what InSource can do:
Determine where you are in your Workforce Optimization journey
Establish the required foundational elements that support success
Provide Workforce Optimization solutions
Quickly gain information, which can be converted to actionable data for better decision support
Benefits possible with a Workforce Optimization System:
Greater Productivity: Better aligning employees' skills will result in greater effectiveness and efficiency in their operations
Efficient and Operation Driven Labor Resource Load Scheduling: Taking into account historical data inputs and business factors such as equipment maintenance or changeovers, training hours, etc, to develop applications that forecast down to very granular intervals what is required for optimal coverage.
Better Trained Employees: Standardize employee skills and requirements so employers have better access to trained individuals and employees will be more successful.
Reduced Turnover: A focus on workforce development as a system helps better match employees with their job descriptions, provides access to training and highlights opportunities for advancement – all things that aid in employee retention.
Better Pool of Job Applicants: By devoting more community or regional resources to adequately training people, the pipeline of qualified applicants will expand to support business growth.
Cost Offsets: As productivity increases, turnover goes down, processes become more efficient and barriers to productivity are reduced. With a workforce systems in place, workforce investments are optimized and risks minimized.
Review Internal Processes for H.R. and Training: Equip HR with the right tools and create a company culture that reinforces workplace development, continuous learning, annual employee satisfaction surveys, etc.
Communicate Expectations and Provide Honest Feedback: Ensure employees are aware of how job performance impacts business goals. Provide the feedback that will put employees on the path to success.
Gather Data to Evaluate Efforts and Quantify Successes: Ensure that you're measuring what matters. Determine effective KPIs.
Featured Solutions: