Packaged IoT for Industry
InSource Solutions is revolutionizing the way data is collected, stored, analyzed and utilized with InSource X0 Solutions™.   Our solutions are completely agnostic to any SCADA or PLC control system.  Our Edge Gateway devices are pre-engineered for optimized data transfer rates of key data elements.  Your data is stored in a secure cloud and can be viewed with any computer or mobile device.  InSource X0 Solutions™ are a complete step-by-step approach to improved operations.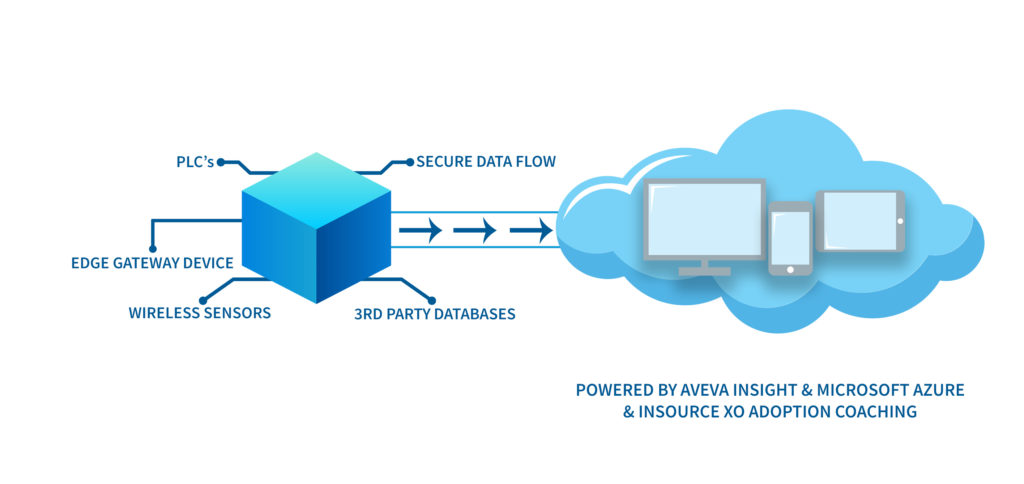 What makes InSource X0 Solutions unique?
Rapid deployment
Are you looking for a weekend OEE Project?  Yes we can literally standup an OEE project in 48 hours, and we have.  What normally would take 3 months to deploy has been done in 2 days.  We are able to accomplish this by pre-engineering everything before we arrive on site.
Rapid results
Once you have downtime or key process trend or energy consumption information at your fingertips….. does your team know what to do with it?  The most critical and differentiating aspect of the InSource X0 Solution™ is the incorporated adoption coaching. Our manufacturing experts make sure your teams know the power of the information they are seeing and what actions to take as a result.
Less expensive with quick ROI
InSource X0 Solutions are commonly 1/5 the cost of traditional standard solutions. You save on software development, installation and on-going support. Say goodbye to trying to get approval for a CAPEX project. All InSource X0 Solutions are subscription based, making it easier for you to get started and easier to budget.  When considering any purchase, large or small, in any industry, the key question every buyer looks to answer is how quick is my return on investment (ROI)? InSource X0 Solution projects are lower cost and quicker to deploy which translates into at least 5X the ROI of any other traditional solution.
Scalable
Because InSource X0 Solutions are incredibly scalable, you can place our solutions in one facility or spread across your entire enterprise and still have one portal.  It is a one stop shop for all your data. We allow you to grow the system wider on what your collecting for the future.
Cloud Optimized
Our InSource X0 Solutions offer a secure, managed cloud solution for collecting, storing, and visualizing process and performance data.  Allowing you to access your data to make faster, smarter business decisions.  The cloud connection allows you to view your data from anywhere on any HTML 5 capable device.  Store and forward is a unique value that is common with all our X0 Solution packages.  Our Edge Platform has the unique capability of storing a weeks' worth of data on premise.  If there should be any loss of connection to the internet the data is stored and sent back to the cloud when an internet connection is reestablished.  All of your data is retained and nothing is lost.
System Health Checks & Adoption Coaching
Part of the InSource X0 Solution subscription is a health and wellness program.  It consists of pre-scheduled health checks on the  software and hardware of your X0 Solution.  These health checks are done on-line, which enable us to take the pulse of your entire system.  Upgrades to software can be done online, and any hardware that is outdated or needs replacing will be taken care of for you.  Our X0 Adoption Coaching  insures your team uses the information at their fingertips to improve operations.  We take care of your data, so that you can take care of business.
Blind Operations to Connected Enterprise in 48 Hours…..Flat