Engineer of the Week – Kevin Modlin
At InSource Solutions, our engineers are an essential part of our business. Our Engineer of the Week series is dedicated to inspiring future engineers by increasing their understanding of and interest in engineering and technology careers. They are essential to our business, and we proudly celebrate their accomplishments.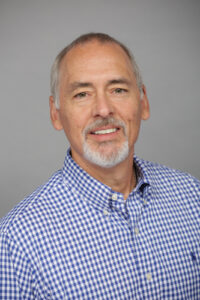 Kevin Modlin, Vice President of Client Success, has over 30 years of experience in engineering. We proudly celebrate his achievements and contributions to InSource and our clients. As a young boy, Kevin enjoyed being hands-on and finding out how gadgets work. From customizing his bicycle to working on his first car, he knew his next step would be to study engineering. Kevin's passion for engineering and his devotion to his team are shown daily. Take a look into why Kevin is our Engineer of the Week and how he started his career.
What inspired you to become an Engineer and pursue a career in manufacturing? 
I was fascinated by how things work and was a very hands-on kid – probably because Xbox wasn't around then. As a youngster, I spent hours tearing apart and "customizing" my bikes and my twin sister's, much to her chagrin. Growing up in a farming community and working on a farm as my first paid job, I admired the ingenuity I saw in the people I was around. When I was 16, I bought my first car, which had no engine, for $50. My parents "gifted" me an engine from a wrecked vehicle that was in the back part of our property (yes, we had a few junk cars lying around), and I rebuilt "my car" with their donated engine and eventually sold that car for 1100% profit. 
My dad was also an inspiration to me. Like many others, my dad didn't have the luxury of a college degree but still landed a high-tech job with the Department of Defense, from which he eventually retired after a short 42-year stint. My dad's penchant for math was transferred to me genetically or by hours of homework "assistance" at the kitchen table – I'm not sure which. Interestingly enough, I don't recall him helping me with any subject other than math.
When high school ended, engineering seemed like the right path for me. Fast forward five years, I graduated with a Mechanical Engineering degree from North Carolina State University. Manufacturing seemed like an exciting industry and a place to turn my hard-earned degree into piles of cash. My first post-college job in agrichemical manufacturing was fascinating and eye-opening, but no giant piles of money materialized.
What do you like about being an engineer in the manufacturing industry? 
I love seeing how things get made, whether onion rings, engineered lumber, car transmissions, shingles, or nuclear fuel rods. I'm intrigued by how the raw materials come together and the number of items made daily! I'm also continually amazed at the sheer scale of manufacturing operations.
What is that one thing that inspires you professionally every day? 
My inspiration comes from the highly capable people that surround me at InSource. There are so many genuinely gifted and skilled people here that I feel like I have to go to work every day with my "A game," so I don't let any of them down! 
What is that one piece of advice you would give someone pursuing a career in manufacturing but is still deciding about it?
The field of manufacturing is enormous, with so many opportunities across many disciplines that, to me, any person could find a rewarding and fulfilling career in this space. My one piece of advice would be to find a mentor. It would be ideal if that person had some manufacturing experience, but that's not a must. A mentor is often just a sounding board to help you refine your thinking. And that's a perfect thing when you're picking a career.
As we learn more about our engineers, we find a new appreciation for the work and skills they have brought to InSource Solutions. Stay tuned as we continue this series.