Internships at InSource Solutions
InSource Solutions prides itself on helping students gain initial insights into real-world work environments through internships. While the next generation steps into the workforce, they deserve to gain relevant work experience through the programs they choose to take.
Whether your major is Business or STEM, the right internship can give you invaluable real-life experiences and skills for your chosen career. Here at InSource, we provide the opportunity for our interns to gain those needed skills while also allowing them to explore the innovative and ever-changing world of the manufacturing industry. We are grateful for any student who chooses our internship program and exceeds our expectations. Our Intern Desmond Simmons did just that for the Marketing Department. While learning new skills relevant to his field of study, he helped the marketing team in more ways than one. Bringing new ideas to the table, Desmond was able to think outside of the box and help the team execute parts of the marketing plan.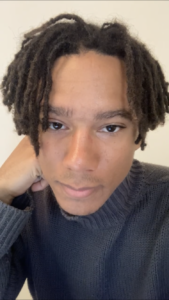 As Desmond moves on to his new endeavors, we look back at his internship with InSource, learning what he loved about the program and how he will utilize the skills he gained. Take deep dive into what an internship looks like at our company as we tell Desmond's experience.
With any internship, students are encouraged to pursue companies that interest them. Desmond wanted to learn more about what goes into marketing, communications, promotion, and lead generation. InSource would enable him to grow his skills and learn more about the business while adding value to the company and team. He chose InSource because of the industry and how digital solutions and services help reinvent today's manufacturing.
Desmond worked on multiple projects for marketing and other various departments. Tasked with managing the leads that came in and database entry/management, he got to experience our CRM and processes. The team enabled him to touch on multiple marketing facets, including creating videos, on-demand content/webinars, and landing pages.
Learning how to create professional landing pages, gated on-demand content, and manage leads that came through, showed what goes into a marketing campaign and the different parts a team works on. Desmond also worked alongside corporate and sales professionals while successfully working remotely.
Getting support and training enables a successful internship. At InSource, we have an in-depth onboarding process that touches every aspect of the company. As soon as Desmond started, InSource started training him on the marketing programs he would use, including our lead management tool, Marketo, ON24, and Adobe Creative Suite. While training in these programs, the team was there every step of the way to make sure any questions were answered. During Desmond's internship, the group continued training him in relevant programs and processes as he undertook new tasks.
"My proudest moment at InSource Solutions was helping the team with their biggest event of the year, The Brew Tour." Desmond Simmons, Marketing Intern, said, "I was in charge of the events promotional materials and other parts of the campaign, which enabled m

e to utilize my training and give suggestions towards the project. I was proud to help the Marketing Department complete each assigned task and felt accomplished to watch the event come together."
A company's culture helps facilitate how an internship will go. We asked Desmond to describe the culture in three words, and he came up with collaborative, empowering, and positive. Even though the team was all working remotely, they still worked collaboratively through Microsoft Teams and would discuss upcoming campaigns and how to participate in them. Being remote still exposed him to different departments within the company. Aaron Evans, Vice President of Vendor & Industry Relations, worked with Desmond on projects that intertwined with marketing and allowed a glimpse into the bigger picture within the company.
Desmond described the feeling of empowerment within the company. The team trusted his ideas and encouraged him to think outside the box. Even though he was an intern, the group listened and implemented suggestions in the marketing campaigns. Being empowered to talk with the different departments and the open-door environment facilitated this feeling and spoke to the company culture. The work culture at InSource is also positive, and every meeting, whether it was to discuss something that needed more work and attention, always ended positively.
Interning at InSource helped Desmond develop professional skillsets, connect with coworkers, and receive career opportunities. This internship facilitated an excellent experience for him and showed what a positive work culture should be. Desmond stated that given a chance, he could see himself working for InSource for the entire decade, and anyone looking for an internship within the manufacturing industry should apply.
Displaying relevant work experience and skillsets can help you receive a position at a company you enjoy, and InSource is proud to help facilitate that through our Internships. We wish the best for Desmond and can't wait to see what the future hold for him.