Transforming operations by increasing visibility and access to actionable information.
Many of our largest clients are knee deep in active Digital Transformation initiatives.  As they execute on these projects, they are often finding themselves awash in data as the number of digital platforms deployed are growing exponentially.  Complicating matters is the fact that most clients are truly looking for their initiatives to improve collaboration across departments, extract and relate information dispersed in multiple data sources and ultimately gain a better theater view of operations.  They are aggressively driving to unify their common understanding of what is going on at any given moment.
The AVEVA Unified Operations Center (UOC) is one of the most misunderstood and undervalued solutions in InSource's technology portfolio.   Today, I thought I'd break this solution down to help you understand what it is, how it works and the business outcomes it can help you achieve.  I believe it's a great option for those seeking to unify their data and ultimately their organizations.
What is UOC?
The AVEVA Unified Operations Center (UOC) is not SCADA (Supervisory Control & Data Acquisition).  That's confusing for some who know us as a supplier of the premier SCADA solution on the planet.  SCADA is there to set the foundation for site operations – data collection to plant floor devices, visualization with the intent to operate equipment, alarm notification when process data exceeds parameter and trending for problem resolution and troubleshooting, etc.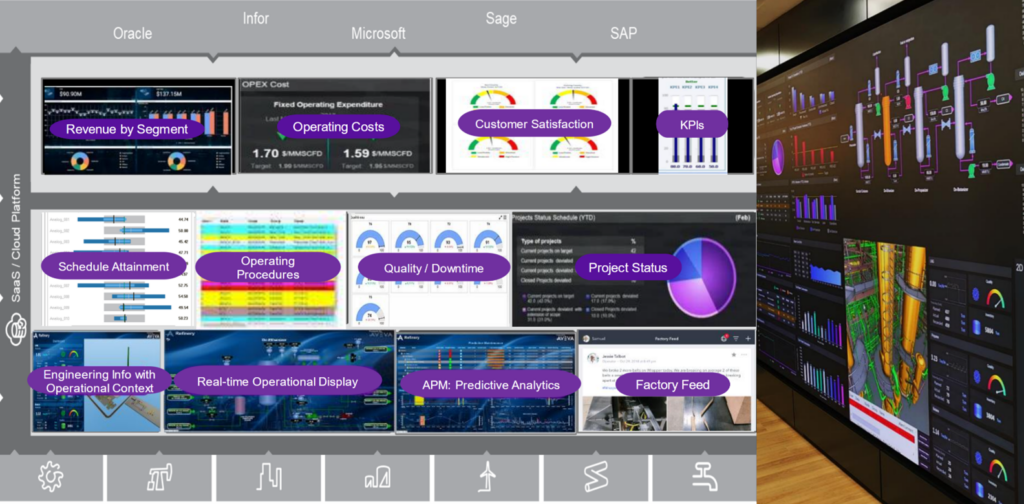 UOC is a solution that goes beyond SCADA to address the drive to unify. Unlike SCADA where the goal is to design a data acquisition and control strategy between an HMI and typically a PLC, UOC assumes the data is out there and available from any number of sources and the goal is to provide the tools and templates to merge this information and put it in context.  UOC organizes that information by asset, across applications on a single pane of glass with industry templates and does it in a way that can accelerate development and ensure scalability.
The goal of UOC is to provide simple integration into operational applications, not limited to SCADA, to create a powerful and visually appealing operational control hub.  Typical data sources are CMMS/EAM systems, GIS databases, Surveillance/Camera systems, energy & building mgmt. systems, Laboratory Information Systems, Engineering, 3D/2D designed, CAD data sources, simulation, safety systems, etc.  These sources can be both in on-premise or in the cloud.
Typical Information presented includes:

Additionally, as an operations hub, the overall visual presentation of information must be aesthetically appealing to be successful.  Rob Kambach, AVEVA UOC product manager recently described the challenge this way:  "The solution must present the right data in the right way. There needs to be wow factor".    Achieving this involves a thorough understanding and design of both:
 The User Experience (UX) which focuses on personas and scenarios, wireframes, and workflows of typical usage scenarios and
The User Interface (UI) which focuses on look and feel, visual design, layouts, colors, and interactions
So, AVEVA & InSource include built-in services for discovery and design review with each implementation.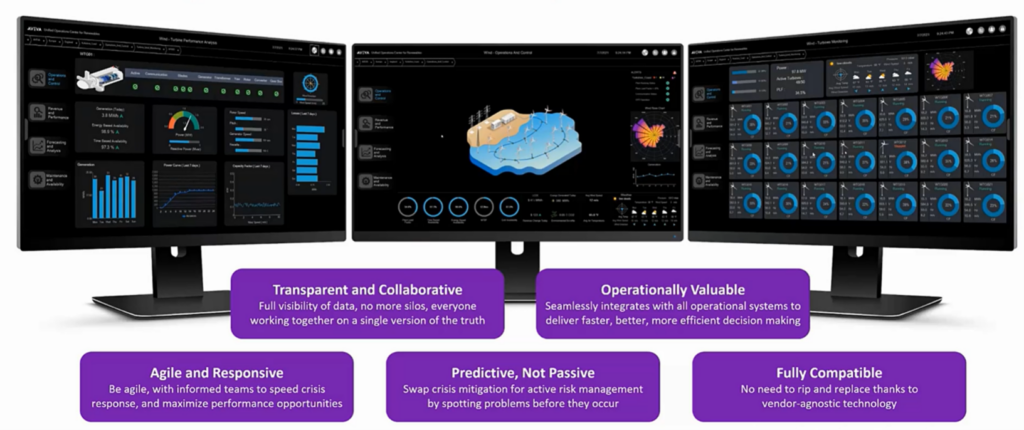 What's included?
UOC has three distinct layers of functionality as shown in the diagram below:
Industry Content- which includes pre-engineered, industry specific templates that include graphics, asset models, reports, and dashboards.  Again, the goal is to help a client develop a UOC quickly
Core Content -includes all the presentation and integration tools which are built on top of the off-the-shelf AVEVA software layer
AVEVA Software – includes off -the shelf software tools that enabled connection, collection, visualization, and control
UOC is bundled as a Software as a Service (SaaS) Subscription that grants usage of all three layers, including access to unlimited use AVEVA software components, for a fixed price per year based on the quantity of named users.  For example, a small UOC System of 25 named users is shown below.  As the system scales, a client can add 5 User add-on packs as needed.

So, who's using it.
Even though UOC is relatively new, there are now dozens of deployments in multiple industries worldwide.   One that we are particularly proud of is this UOC deployment at a major municipality in Georgia which was designed and implemented by MR Systems in conjunction with AVEVA.  New templates for water & wastewater and renewable energy operations centers are in the process of being released, with more planned, and that will continue to make the solution appealing to many more.
Our Unified Future is Bright 
No two industrial operations are the same.  But most share the desire to unify their data and their operations.  Transforming operations by increasing visibility and access to context driven actionable information is an important step and AVEVA's Unified Operations Center (UOC) is a world class tool to make that step possible.
Please contact InSource if you are interested in taking that step.  We'd love to help.