Manufacturing Execution Systems
Lower the cost and complexity of MES standardization.
Manufacturing execution systems (MES) ensure that all facets of an operation — materials, people, processes, and equipment — act in concert, securely, and in compliance with industry, customer, and product specifications. Our MES system enables agile, short-term production planning and flexible update schedules. It also improves supply chain visibility and decision support by updating business applications with production responses and KPIs in real-time.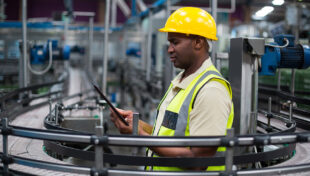 AVEVA Manufacturing Execution System
AVEVA's unique Model-Driven MES approach combines the traditional benefits of a manufacturing execution system with modern digital workflow management technology to bring people, organisations and processes together.
Our unique Model Driven Approach allows you to easily:
AVEVA is named a Leader in IDC MarketScape
Worldwide Process Manufacturing Execution Systems 2023 Vendor Assessment.
Multisite manufacturing execution system standardization
Shorten time to value and reduce ownership costs for your smart manufacturing initiatives. AVEVA's edge-to-enterprise MES solution allows operations to scale while offering a sustainable, model-driven approach. Standardize your lean and continuous improvement best practices, operational processes, KPIs, compliance reporting and supply chain integration across multisite operations.
Drive consistent manufacturing practices across your organization by standardizing technologies and processes for measuring plant efficiency and enforcing regulatory compliance. By gaining visibility into plant operations, you enable a more responsive plant and more agile supply chain operations.
Model-driven standardization captures best practices in templates and libraries that can be rolled out and adapted across multiple sites
Ready-to-use standard MES activity and user interface models reduce time to value for plant MES solutions and multisite standardization projects
An edge-to-enterprise architecture reduces the cost of multisite MES standardization and unlocks business-wide benefits
Danone

Ensuring product quality and traceability. Danone is a global leader in the food and beverage industry with a mission to drive healthier and more sustainable consumption through its One Planet.…

Explore the case study
Digital manufacturing operations management
Optimize your manufacturing value chain. Enable smarter manufacturing operations management by aligning people and processes with technology and data-driven insights.